Welcome to Doncaster Badminton
Where and When
Every Monday 7-9pm
The David Ashton Sports Hall Campsmount Academy
DN6 9AS
Just £5 for a 2-hour session
(£2.50 for under 18s)
Cash on the evening
No need to book, just turn up.
Equipment
You will need to bring appropriate clothing and just a drinks bottle, maybe a hand towel.
Ideally bring your own racquet, however we do have some available to hire for £2 per session but these are limited so must reserve in advance.
We'll take care of shuttlecocks and nets etc.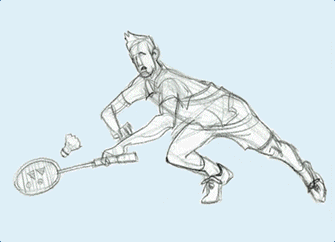 Skill Level
All Levels welcome, incl. beginners & new players and those wanting to return after a break.
The club does not actively take part in any league fixtures, although league players are welcome to join us for additional practice.
We're here for a bit of fun and fitness. We're not an elitist club.
Format
Our games comprise of doubles that are spread over multiple courts.
We mix up the players after each game so no two games are the same. Your partner in one game may be on the opposite team next time, or even playing on a different court.
(Although exceptions do sometimes happen!)
Showers
Showers are available on-site. However the centre closes at 9pm as we finish our session.
You're welcome to have a shower but must ensure you're finished, dried and ready to leave for 9pm, cutting your session short.
Children
Children under 16 are welcome.
However they should be accompanied by a (paying) adult to ensure they are comfortable during play and if necessary, they'll at least have someone familiar to play with.
Whilst we're sure that some of our adult players might not mind taking the occasional slow game for a youngster, it is up to the individual players and we cannot make that guarantee on their behalf
Other Bits
Good clean fun, easy going.
Players take turns to sit out in the event of odd numbers attending.
If more than 1 player is sitting out, at the players discretion they may decide to have a knockabout on a spare court to keep warmed up.